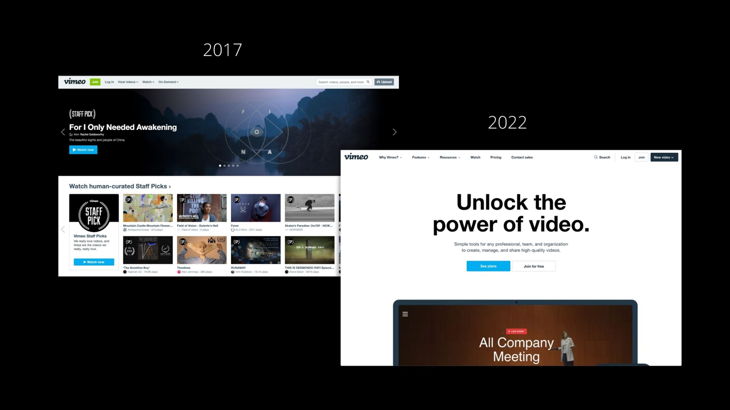 Today we're announcing that Filmhub is ending its relationship with Vimeo. It's disappointing because Vimeo originally had such promise for independent filmmakers. Vimeo struggled to find its way to drive consumers to view content and has now morphed into a corporate video services provider rather than a platform for filmmakers to monetize their films.
Few probably know that Vimeo actually started as a side project of the CollegeHumor team. A little while after Vimeo's creation, IAC (Barry Diller's media conglomerate) acquired CollegeHumor and Vimeo. At that point, YouTube had recently been acquired by Google for $1.65 billion, and the IAC team realized that Vimeo could be something worth investing in. They got most of the CollegeHumor staff to concentrate on building out Vimeo further, and Vimeo became one of the first video-sharing sites to offer HD content to users. However, the original CollegeHumor/Vimeo staff ran into struggles getting along with the corporate nature of IAC, and they ended up parting ways.
Vimeo focused mainly on the creator/filmmaker and building tools for them. Without driving a consumer audience to the amazing films being uploaded to Vimeo, the platform never became a strong monetization option for filmmakers due to its limited consumer audience.
Vimeo really began to cement its path in 2016 as a video tools company when it acquired VHX - a platform for building SVOD OTT (subscription video-on-demand over the top) services. Throughout this time, they began charging filmmakers more and more for the bandwidth and storage they used on the platform, which was ultimately a huge misalignment in building a streaming platform. You need more content to build a streaming platform; increasing the cost of bringing a film on the platform limits filmmakers' incentives to add more content.
Since IAC spun out Vimeo as a public company in 2021, they pushed further and further into becoming a video service for corporations to manage their video delivery to employees and others. They have now shifted far from their filmmaker roots and aren't attempting to drive consumer viewership. As such, we're removing them as a streaming channel on Filmhub. At Filmhub, we always believe in supporting up-and-coming streaming channels, just like our filmmakers. Unfortunately, Vimeo isn't driving the monetization of films with this business focus change, which is key to being a successful streaming channel on Filmhub. All films distributed on Vimeo via Filmhub are being fully removed by May 31, 2022.
---