How Sweta Rai Directed An Oscar-Race-Shortlisted Documentary–Remotely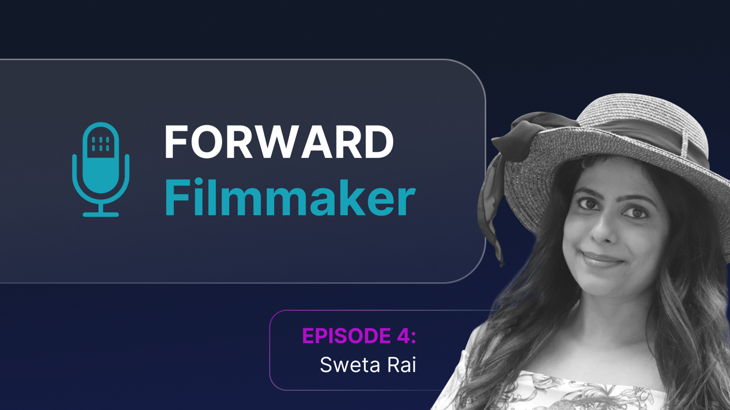 Welcome back to the Forward Filmmaker Podcast, where we share stories and advice from a new generation of filmmakers bucking industry norms. On this episode, host Max Sanders interviews director Sweta Rai. Here's an edited and condensed transcript of their conversation.

To tune in as we release new episodes and support Torsten and the show, subscribe, rate, and review Forward Filmmaker on Apple, Spotify, Google, or wherever you get your podcasts.
Max: Joining me today is producer, writer, and director Sweta Rai. Sweta is CEO of her LA-based production company, Indo Holly Films. She has three master's degrees and a remarkable passion for filmmaking. She has produced movies starring James Caan and Bo Derek, and she directed the 2020 documentary A Pandemic: Away from the Motherland, which was shortlisted for the 2020 Oscar race. From quarantine, Sweta remotely filmed gripping stories of five frontline healthcare workers, all Indian immigrants. In chronicling these doctors' experiences, she delves into how their families in the U.S. and in India dealt with the impossible situation. We'll be talking with her about directing this documentary during and about the global pandemic. Sweta, how are you?
Sweta Rai: Hi, I'm doing great. Thanks for having me.
Max: A Pandemic: Away from the Motherland is a powerful film about the medical aspects of COVID-19, along with the struggles these five doctors and their families in the pandemic. I gotta ask: What set you out on the story?
Sweta Rai: It was something that came out of nowhere. We were not prepared. I was in New York in March 2020, which was not a good place to be. I knew that something's happening. I had those bottles of hand sanitizer, and I think I was one of those last few people who could get it before there was a shortage. There were no masks, and I was trying to maintain distance. I was reading a lot about it. It already happened in Wuhan, and within two weeks there was a lockdown. Now I'm in a lockdown in New York. I live in LA, so I was stuck. Then it just hit me that my family was worried in India. I started thinking about it. I was like, 'Okay, if my family – even though I'm at home, not going out – is so worried, what about the frontline workers, the healthcare workers? What about their families? What about the immigrant healthcare workers, their families back at home, wherever they are?' It could be any healthcare worker whose families are away from them. How do they cope with what's going on? That's when I started talking to some doctor friends of mine. I was like, "We have to tell this story, and I have to film it in real-time, no matter how difficult it is going to be." It was a strict lockdown. But I thought that we are filmmakers, and we are also essential workers. We go out. We shoot. We shoot around volcanoes. We shoot around wars. I think we are essential workers too. Somebody has to tell these stories. And if I was to sit at home and wait for the filming to open, I will miss out on this opportunity to bring the real emotions of these doctors in real-time. That's when I decided that I have to tell this story, and I knew the name – A Pandemic: Away from the Motherland. I knew what shape I'll have to give it. But a few things, of course, we discovered on the way.
Max: How did this film come to be, piece by piece, after that idea came into your head?
Sweta Rai: As filmmakers, we were not allowed in all of the hospitals, so we couldn't go and film. When I came back to LA, we were still under lockdown, and it was scary to take a flight. The hospitals were also not allowing for the camera crew to come and shoot. So that's when I came up with this idea that I have to direct and produce – and, of course, I wrote it – at home. Remotely. That's how we started shooting, because these doctors are in four different cities of the United States, and their families are in four different states and cities of India. In India, it was again a difficult task, because India was also under strict lockdown. And the rules were very different for filming. So step-by-step, we started in March 2020, and we were constantly shooting. As we were shooting with one doctor, we would ask other doctors to film their day-to-day life experiences because I didn't want to miss out on anything. Also they are non-actors. They know it's their day-to-day life that I have to film, their hospital experiences, because hospitals are also going through a lot of changes. Things were changing in the hospitals and at home, with the doctors trying to connect with their families. One of the doctors, her family was in the same house, but she can't be with them. She would say hi from the first floor, and she'd wave and things like that. It was difficult. Safety was our priority. I was guiding them remotely. My DP was in his late fifties, so we were always worried – we couldn't send him to shoot on location. But he was always there on WhatsApp and Zoom calls. We decided that we will be staying with these doctors online as they are filming so we can guide them at least, on where to keep the camera and how to shoot it. They were not filmmakers. It was difficult. But we tried to educate them about filmmaking, and they did a good job.
Max: This remote style of filmmaking, do you think this is something you're going to incorporate going forward? And do you think filmmakers in general will?
Sweta Rai: Yeah. In fact, when I first started it, I don't think many people were doing it. And it got picked up very well in the media back then. Suddenly, it was covered by a lot of national and international publications. There was a TV series done remotely. There was a documentary done remotely. People started doing it, and I think it is a new normal. I felt comfortable doing it, although my editor hated it because when he saw the footage from all the possible mediums, like iPhone footage, Android footage, the horizontal footage, he just sat for days and was like, "What is this?" So that is something that you have to have: An editor who has a big heart to take care of this different kind of footage. In my second film, which is now in post-production, I would say at least 70 percent of the film I have shot remotely. I started shooting it right after we wrapped the pandemic film. So yes, I have already adopted the technology going forward in my other firms. I think it's a good technique to shoot remotely.
Max: I know you picked one of the doctors because he has a specialty in lung transplants that we'll talk about later. How did you pick the other four doctors?
Sweta Rai: I think that for the doctor who specializes in lung transplants, it was very obvious, although when I picked him, we didn't know that he's going to do this miraculous surgery. It just so happened. It was meant to be, because he ended up discovering something as we were shooting with him. One of the doctors, he came through a friend. All five of them – a cardiothoracic surgeon, a pulmonologist, a nephrologist – they are all treating COVID patients. It was a prerequisite that the doctors were treating COVID patients, exposed to the virus. The other doctor, people thanked her in her community, and that video became viral — a video of her thanking people who were passing by in the cars - it was a parade in front of her house. That was the first parade thanking healthcare workers. And after that, it started a revolution across the world. She was covered by BBC. I saw that video, and I was like, "We have to feature her." Unfortunately, one of the doctors that I was about to film in UK, he died of COVID complications.
Max: Oh man.
Sweta Rai: It was very unfortunate. We thought of still filming with his family, but they were too heartbroken. Then I decided to find a doctor who is actually going through COVID. That's when I found Dr. Pooja, who was actually going through COVID. She contracted COVID, and I was like, "We have to film what it is like when somebody contracts COVID, to hear that information straight from a doctor to the audience, what are the do's and don'ts, and how it impacts somebody's family. That's when I decided to take Dr. Pooja on board. She was okay with it, and I was fine shooting with her, although we didn't know how it was going to turn out. But I think in the end, it worked out well. She recovered, and we got to celebrate Mother's Day after her recovery. A lot of people can relate to it, a lot of other healthcare workers and frontline workers can relate to these stories.
Max: Yeah. I thought it was wonderful that you told the story of them and their families and reacting and dealing with everything, as well as what it was like to be on the frontline, to be in the hospitals. Was it planned to do an even balance of those two?
Sweta Rai: I knew that this film will be always about a ray of hope – that there is always hope. I just didn't know how it would end or when everybody is getting vaccinated. But I knew that at some point something is going to happen and it will be always about this message of hope. I wanted to discuss about the science of this virus so that it can come directly from the doctors. At that time, there was so much misinformation. There were so many YouTube videos. There was so much going. We had specific instructions from CDC and whatever government agencies we were working with that we have to bring the right message and the right science about the virus. So, I wanted to educate. In the beginning, I wanted to show the emotions of the families. And that's when we go to India in the movie. Then, of course, India being so different from north to south, that's why we show what it is like for a North Indian parent versus South Indian parent. They have different ways of praying for their children. I don't think that you can come up with a great documentary where you already have a script. You can never have a script in hand. You can have pointers. You can have questions. You might know that you have scouted this place, and you know how you want to shoot it. But you can never have the exact direction, because it will always come from your subjects. I wanted to cheer them up also because every day was too overwhelming for all of them. And, of course, for me also. Because there were moments where I broke down, because I'd see a doctor crying. Of course I can't cry in front of them, but afterwards it was like too overwhelming.
Max: Were there any points when you felt like it was too mentally taxing, and that you didn't want to go on?
Sweta Rai: I wouldn't say that I didn't want to go on, but especially when you talk to their parents and their parents are talking about courage and hope, even though they know that their children are exposed to the virus more than anybody – I think two of their family members are also doctors, and they would always talk about a good message to people, that they're meant to do this service. They would compare it with the war – that if somebody's son or daughter is in the army, they have to go and fight this war. So, it is like a war for their children, and whatever happens, at least they will end up saving so many lives. So everyday when they would tell me this number, the death toll, it was kind of overwhelming to know about these numbers and what complications people are going through. But then again, as I said, there's always a ray of hope, a light at the end of the tunnel. So this doctor, Ankit Bharat, he ended up doing this double lung transplant surgery, which was a big development in medical science. Once he did that surgery, we knew that at least there are methods or there are procedures that can help these patients with COVID complications. And after that, there was another doctor, not from the movie, but he ended up doing both double lung and heart transplant surgery together on a COVID patient. After that, Dr. Bharat, recently he did a COVID-to-COVID lung transplant surgery, wherein he replaced a lung of a patient with the lung of a patient who recovered from COVID. So, all these things, I think us as human beings, we always find ways to come out of these things. From a movie point of view, I think it was important to tell all these moments and their side of the story.
Max: Did you know much about the medical field, or did you just dive in because of the documentary?
Sweta Rai: I had studied mathematics and biology, so that helped. And then these doctors were also my advisors. So they would tell me of anything that I would want to know and send me all the details. We had a lot of data from Johns Hopkins University, and they were sharing a lot of information. So it was educational for me also at the time, because whatever new research papers that were being published – or some were not even published, they were being written – I would have access to some information. Then I'd go through it. I think everybody got educated. Both my editor and DP, they became so good at it that they would just talk to me in medical terms. That's what happens. I wanted to show their happy side, too. They were crying of course. It was so natural. People should get a real picture of what's going on. But at the same time, I wanted to show what they do apart from work. How are they trying to keep themselves fed and what their families are doing – I wanted to do bring that aspect of their lives also, so that it could be like a day in physician's life, how they deal with the stress, and when they come back home, what do they do? I think that gave people a glimpse of what it is like to be a doctor.
Max: This was a giant challenge. Do you think you're going to take on other chaotic situations in the world?
Sweta Rai: I don't know about another natural calamity. But for pandemic, something about this new normal shooting style I missed in the beginning is that this style of filmmaking is also taught in some LA film schools now. My DP actually is also a professor of cinematography in some of the film schools. He taught this style of filmmaking to his students. And a couple of short films last year that his students shot remotely, they showed it to me. I was like, "This is wonderful." People are following this style of filmmaking.
Max: Did you find any other new normal filmmaking techniques doing this that you're going to use on future projects?
Sweta Rai: I did actually. Yeah, there are a couple of new apps that we figured that we could use and will use in the future also. But I still feel that there is a lot to be explored, and I'm sure that with more and more people trying to do this style of filmmaking, they should be able to figure it out. Again, at the end of the day, when you bring that data to your editor, it's a little difficult because you are working with non-actors. They're not technically trained for films. That's the difficult part. But if your subjects are willing to get educated on the style, then you can always teach them; and they can help you record what you want to record in real-time.
Max: What are you working on right now?
Sweta Rai: One film was a documentary that I shot 70 percent remotely. And then 30 percent was in-person. And other film that I'm going to do is a bigger film – we're in pre production. It's a mix of Bollywood and Hollywood.
Max: Very cool.
Sweta Rai: It will be a little hard to be directing all the dancers on a Zoom call.
Max: After you filmed this, when and how did you think about how to distribute it? And about sharing it with the world?
Sweta Rai: I wanted it to be released on platforms that I can trust and that will go to the masses. That was the strategy. I was very late for a lot of film festivals, because for me at that time, taking it to a film festival versus releasing it was more important because the message should go out sooner. But thankfully we got [shortlisted for the 2020 race for the] Oscars, and that was great. We got some recognition. I think just getting there was a big gift to these doctors, and I think all the healthcare workers. Not just these five doctors. I didn't want to make it only about these five doctors. They are representative of this whole frontline team.
Max: I'm so glad that you got to tell a story that transcended healthcare workers.
Sweta Rai: There are so many good stories. I keep getting a lot of scripts every day from different parts of the world. And sometimes I feel that there's so much talent, so many underrepresented stories that need to come out, and not necessarily all of those are made. So, I think that is something I wish – that I could finance most of the good stories.
Max: Let's say money's no object: You can hand pick any actors. You can tell any story. What would you do?
Sweta Rai: I think I'm kind of already doing my dream project. But there is no end to it. I think there will always be one story or the other. There's always something that will come up after this, which will become a dream project.
Max: Did any movies inspire this?
Sweta Rai: Yeah. I saw the movie My Octopus Teacher– it won an Oscar, but I watched it because I liked the trailer, and I was like, "I should go for it." It's par excellence, every aspect of it. The thing that I always strive for in my movies is the emotional aspect. It's not about the cinematography or how it was made. Of course it's beautiful. But it's about that relationship that breaks your heart. I think those are the kind of films that inspires me. And I feel like if you are able to bring that emotion out, whether it's a documentary, that emotion for me is so important. I always look for that. Even if I'm doing narrative I look for my characters to be able to portray these emotions. I think that's what sells. A good story.
Max: What is one question you wish I asked you?
Sweta Rai: Maybe about somebody that I want to work with – my dream actor or something.
Max: So who is the dream actor? I gotta know.
Sweta Rai: I think it has to be Tom Hanks. I have worked with some of the iconic actors. When I was still in the film school, I got to intern at Morgan Freeman's company. And one day I'm sitting, and I heard that voice, that voice. He was behind me. I met him. It's not just about acting. It's about filmmaking in general. Every day on set is so informative. You get to learn about the craft.
Max: So where can people find your film catalog if they want to check you out right now?
Sweta Rai: All my movies are on different platforms. Go to IMDb, and there's the complete list. Some movies are playing on Amazon Prime. Some movies are playing on Hulu, Showtime, and different platforms.
Max: Thank you so much.
Sweta Rai: Thank you so much. It was a pleasure speaking with you.
Max: Thanks for listening. Please subscribe, rate, and review Forward Filmmaker on whatever podcast platform you're using. On the next episode of Forward Filmmaker, we'll be speaking with Brazil-based actor/director Emiliano Ruschel. He'll be talking about his secret to creating action movies for a fraction of the normal cost.
---